SAVI Server Pro
The heart of every SAVI 3 automation system with proven rock-solid performance capable of controlling any project with power to spare. Designed for efficiency, reliability, and speed, SAVI Server Pro controls thousands of devices simultaneously, including lighting, displays, audio zones, and more. Features the built-in SAVI 3 control and automation system, including Creator, Canvas, and the award-winning SAVI UI, the Server Pro offers a sleek industrial design fitting into a single slot of our 3-slot 1RU chassis.
Hardware Details
Key Benefits
Built-in SAVI 3 Controls and automation system, including Creator. No software downloads

Modular chassis with space for 2 additional processors, e.g., backup server, music services, or lighting control
1U design and captive thumbscrews for easy installation
Dedicated space for SAVI Show images and slideshows
Power and ethernet are all that are required
API Integration with all SAVI products and plays well with other brands
Front panel power reset button access
Includes first year of Annual Support and Maintenance
Proudly assembled in the USA

SAVI DSP.One
COMING SOON! The SAVI DSP.One is the Digital Signal Processor the industry has been waiting for making system expansion simple with no licensing or additional software required. Feature rich with a reimagined configuration UI, SAVI Link, matrix mixer, and physical 16 x16 I/O, enabling integrators of all skill levels to design, program, and complex audio experiences at a fraction of the time and cost.   It's so easy to use, your time is spent configuring and tweaking settings, not learning where things are.
Features SAVI Link, a standards-based audio over IP system designed to eliminate license management software, simplify installation and control of AV systems for commercial venues. Now you can combine all sources over the network and leave your interconnects in the truck.
Hardware Details
The best configuration UI you will ever see – clean, intuitive, and works on any device with no software to download

16 line level analog inputs/outputs

Unlimited virtual IP inputs

4 Microphone inputs

Designed to distribute up to 48 IP sources with SAVI Link
Combines analog and IP sources in a distributed audio system
No external mixer required with 4 super mixes – combine all available sources in a single mix

SAVI AMP.One
COMING SOON! Smarter than your average amplifier and the perfect companion to DSP.One. The SAVI AMP.One offers 2400 watts of ICEpower® and delivers rich audio, flexible global input, and UI volume control in a sleek 1U design. With front panel configuration and the versatility to manage a variety of use cases: 8 ohm, 4 ohm , 70 volt, 100 volt, and LPF, it's the only amplifier you'll need to purchase.
Hardware Details
Cost-effective with the horsepower for every project

6 Zones of flexible amplification ICEpower® modules to provide a solution completely unique for 70V audio amps

Flexible Power Provisioning – 2400 Watts in a convenient 1U Form Factor

Selectable stereo or mono output per zone ensures that this amp will work with virtually any speaker, regardless of brand

2 Global inputs make it easy to combine zones

Individual speaker output level control for even more flexibility

300 watt x 8ch @ 4ohm
600 watt x 4ch @ 4/8 ohm (bridged)
600 watt x 4ch @ 70/100 volt (70/100 volt bridged only)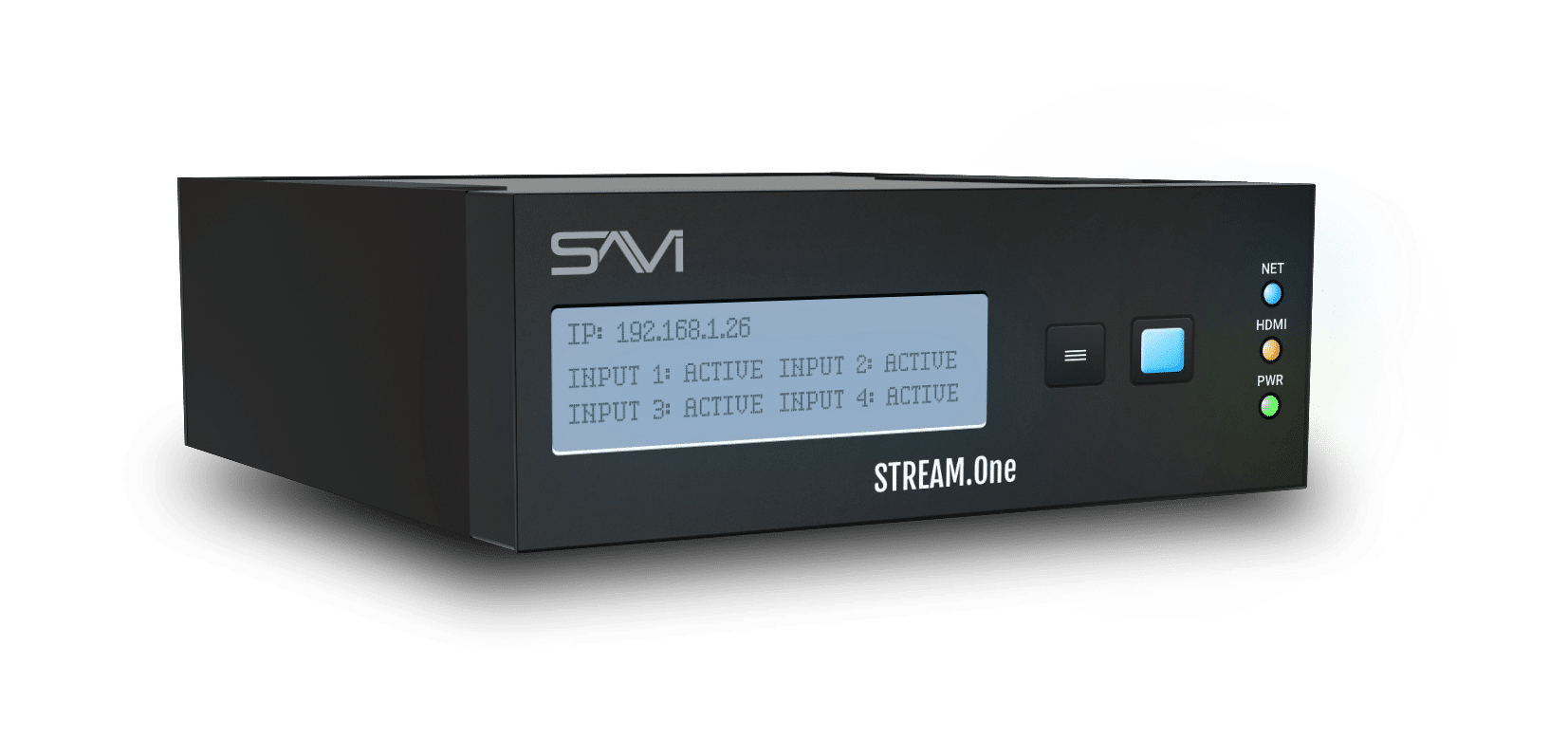 SAVI STREAM.One
The STREAM.One video encoder is engineered to deliver a new level of innovation to a project staple; dramatically streamline system design, cabling, and installation by providing advanced audio-video distribution to individual displays or complex video walls, all with just one cable. Featuring SAVI Canvas, the STREAM.One provides seamless over the network content distribution and makes any video source available, greatly simplifying system expansion. STREAM.One is the perfect product for content delivery throughout large stadiums, but simple enough to use in any size project. The modular, scalable design means you don't have to pay for inputs you don't need. 
Hardware Details
HDMI pass-through eliminates the need for an external splitter and multiple HDMI connections
HDMI input encodes audio and video signals into individual PCM and H.264 streams
Analog audio extract enables pulling audio separately using an integrated audio de-embedder which can be plugged directly into any amp
5mm Phoenix terminal block provides de-embedded balanced audio
Built-in simultaneous stream enables a live preview of active sources in the UI
Automatic Device Discovery saves time in the initial setup of multiple units
With built-in UI, it's easy and intuitive to set up and program any system. No software download is needed
PoE for clean wiring in every rack and remote power cycle; AC/DC power supply also included
Front screen and status LEDs provide at a glance information, troubleshooting, and quick configuration
Custom splash screen image auto displays should the video signal drop, eliminating "no signal" message on displays
1U rack mount kit (included) holds up to 4 STREAM.One encoders fit in a single 1U chassis
Easy customization

SAVI DMA.One
COMING SOON! The multi-functional SAVI DMA.One (DSP Matrix Amplifier) has all the features and versatility of the DSP.One combined with ICEpower® module amplification outputs and 2400 configurable watts with up to 16-line level inputs for 4 ohm, 8 ohm, 70 volt, 100 volt installations. In an industry first 1U chassis, the SAVI DSP.One eliminates clutter and the expense of additional audio equipment. The built-in configuration UI is clean, intuitive and enables techs of all levels to program rich audio experiences in a fraction of the time.
Featuring SAVI Link, the DMA.One delivers widespread audio distribution over a single network cable, making configuration simple and quick for a variety of applications from MDF to IDF and campus installations.
Hardware Details
Bring HiFi quality sound to commercial AV
Key Benefits
All the glory of DSP.One plus ICEpower®  module amplification and 2400W of pure POWER

The best UI you will ever see – clean, intuitive, and works on any device with no software to download

16 line level inputs

that can be utilized in

4 ohm, 8 ohm, 70 volt, and 100 volt installations

Unlimited virtual IP inputs

from the SAVI STREAM.One or SAVI STREAM.One 4

4 Microphone inputs

Designed to distribute up to 48 SAVI Link sources
Combines analog and IP sources in a distributed audio system
No external mixer required with 4 super mixes – combine all available sources in a single mix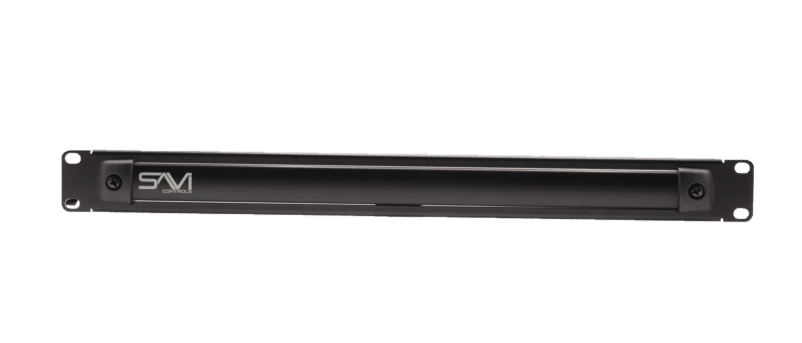 SAVI Connect
Designed to easily connect a wide range of non-IP-enabled legacy devices to an AV and automation network. SAVI 3 makes it easy to add and control devices including wired (TCP/IP), serial (RS232), infrared (IR) and relay control ports.
Providing uncomplicated, yet powerful connectivity simplifies integration and allows legacy devices to act like network devices, contributing to the overall automation experience.
Hardware Details
19" rack mount chassis

Ethernet port

2 x RS-232 modules

5 x IR modules with 3 ports per module for 15 total IR ports

Relay module with 6 independent relays each with a max current of 3 Amplifiers

Max voltage: 250Vac/30Vdc, Normally Open (NO) Single pole single throw (SPST) relays

SAVI Kona
The SAVI Kona has been cooling critical gear and AV equipment racks for nearly a decade. Drawing in air from the front and pushing it out the back, the Kona fan creates a stream of airflow over each component, increasing the reliability and longevity of your hardware by maintaining safe operating temperatures. The pre-mounted fan core on vibration isolators delivers the ultimate quiet cooling experience at only 15dB.
Hardware Details
1U – rack ears included
20 CFM
20 dBA
12V DC, 500mA AC/DC adapter included (100VAC – 240VAC)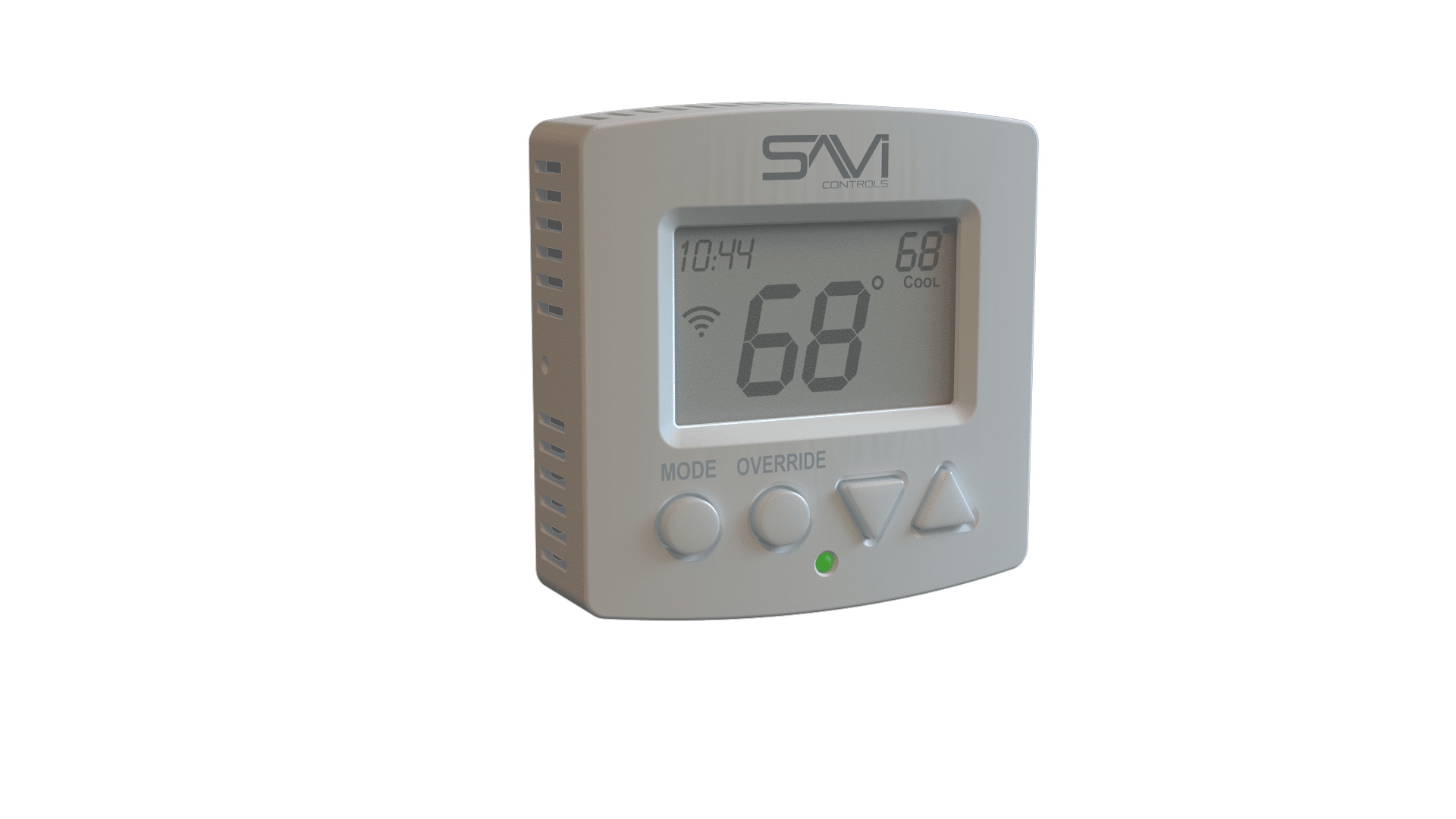 SAVI Thermostat
Quick and reliable HVAC integration for all commercial environments. The SAVI Thermostat makes it easy to integrate HVAC systems with SAVI Controls. This compact WiFi enabled thermostat is a breeze to install and gives you the power to program over the network. Compatible with gas, electric or heat pump systems, the SAVI Thermostat is flexible enough for any commercial job.
Hardware Details
Full HVAC control integration with SAVI
2-stage cooling, 2-stage heating for use with gas/ electric, head pump or hydronic system.

7-day programmable

Smart fan (fan switches to auto mode when unoccupied)

Up to 4-hour override

Pre-Occupancy Fan Purge

Large, easy to read display

Nighttime control of display backlight

Bi-color LED indicates a heating or cooling demand

Dry contact input

Compatible with condensate overflow warning systems – lockout compressor with message on the display

Fahrenheit or Celsius display

Non-volatile memory

Keypad lock

Title 24 compliant

FDD (Equipment Fault Protection) notification
Want SAVI Hardware in your next project? 
If you're an AV integrator in the commercial space, add the SAVI hardware line to your offering to save time and make more money.
If you're using another commercial automation platform, try SAVIHardware and compare.